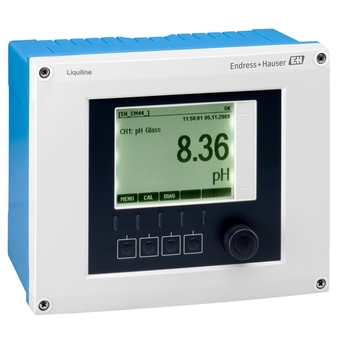 Loading price
Prices temporarily unavailable
Price on request
activating price
price: provide information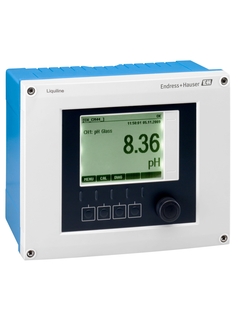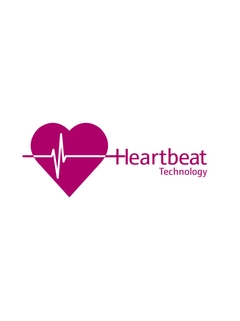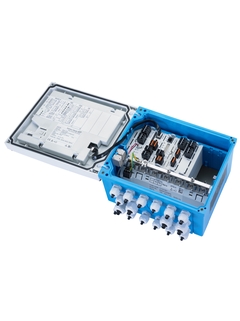 Specs at a glance
Input

1 to 8x Memosens digital input
2x 0/4 to 20mA Input optional
2 to 4x Digital input optional

Output / communication

2 to 8x 0/4 to 20 mA current outputs, alarmrelay
4x relay, ProfibusDP, Modbus RS485, Modbus TCP, Ethernet
Field of application
The Liquiline CM448 transmitter allows you to connect up to 8 Memosens sensors of your choice from over 12 measurement parameters. It offers automatic sensor recognition, simple operation, and standardized spare parts with all other devices of the Liquiline platform. With its inputs, outputs, controllers, and math modules, you can even control cleaning systems or dosing pumps. Heartbeat Technology helps you find the ideal balance between measuring point availability and maintenance costs.
Liquiline CM448 is suitable for all industries and their utilities, such as:
Food & Beverages

Life Sciences

Power & Energy

Water & Wastewater

Chemicals

Marine
It features the following communication protocols and interfaces:
0/4...20 mA

HART

PROFIBUS DP

Modbus RS485/RTU

Modbus TCP

EtherNet/IP

PROFINET

Webserver
The transmitter can be extended with a module whose explosion protection approvals, such as IECEx, ATEX, and CSA, allow the connection of sensors installed in hazardous areas.
Benefits
Clever simplicity:
One controller for all parameters and applications, intuitive user interface, automatic sensor recognition, hot plug & play with pre-calibrated Memosens sensors.

Complete package:
8 channels in one device provide the highest flexibility for every measuring task.

Seamless system integration:
Unique portfolio of communication standards suits every distributed control system (DCS).

Simple and safe commissioning:
Saving configuration on SD card enables fast set-up on duplicate installations.

Process control from a distance:
Integrated web server that allows the operator to remotely view diagnostic data, perform configurations, or access device parameters in any web browser - even via Smartphone.

Higher availability, lower costs:
Heartbeat Technology enables status-oriented maintenance and easy verification of the entire measuring point and helps to carry out optimization measures.
Videos
Memosens converts the measured value to a digital signal and transfers it to the transmitter without a contacting connection. This video shows how Memosens optimizes process control and maintenance.
Get this product as part of a bundle
Loading price

Prices temporarily unavailable

Price after

login

and Configuration in Cart

Price on request

activating price

price: provide information

Price after configuration in cart

Loading price

Prices temporarily unavailable

Price after

login

and Configuration in Cart

Price on request

activating price

price: provide information

Price after configuration in cart
Simple products

Easy to select, install and operate
Technical excellence
Simplicity
Standard products

Reliable, robust and low-maintenance
Technical excellence
Simplicity
High-end products

Highly functional and convenient
Technical excellence
Simplicity
Specialized products

Designed for demanding applications
Technical excellence
Simplicity
FLEX selections
Technical excellence
Simplicity

Fundamental selection

Meet your basic measurement needs

Technical excellence

Simplicity

Lean selection

Handle your core processes easily

Technical excellence

Simplicity

Extended selection

Optimize your processes with innovative technologies

Technical excellence

Simplicity

Xpert selection

Master your most challenging applications

Technical excellence

Simplicity
Extended selection
High-end products

Highly functional and convenient
Technical excellence
Simplicity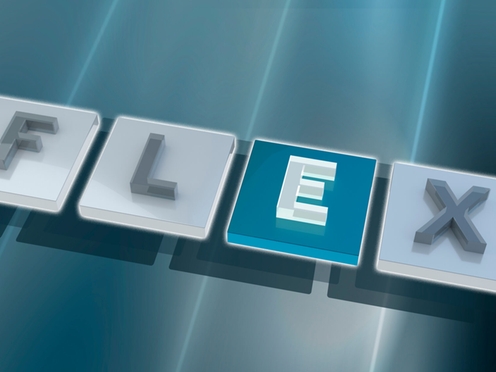 Loading alternative products
Success stories

Could also interest you

Application

Modular 4 wire controller
Multichannel: 1 to 8 digital channels for Memosens protocol
Multiparameter: pH, redox, ISFET, conductivity inductive and conductive, dissolved oxygen, nitrate and turbidity
8 sensors connectable in any combination
Functionality modular extendable at any time
Plug and play for modules and sensors

Characteristic

Robust plastic housing
All non-ex applications

Design

8x Memosens input, 2 to 8x current output,
Alarmrelay, 2x relay, SD card for software update and copy & paste of setup

Material

Housing base: PC-FR
Housing seal EPDM

Dimension

237 x 194 x 162 mm
9.33 x 7.64 x 6.38 inch

Process temperature

-20 to 55 °C (0 to 130 °F)

Input

1 to 8x Memosens digital input
2x 0/4 to 20mA Input optional
2 to 4x Digital input optional

Output / communication

2 to 8x 0/4 to 20 mA current outputs, alarmrelay
4x relay, ProfibusDP, Modbus RS485, Modbus TCP, Ethernet

Additional certifications
Application

Modular 4 wire controller
Multichannel: 1 to 8 digital channels for Memosens protocol
Multiparameter: pH, redox, ISFET, conductivity inductive and conductive, dissolved oxygen, nitrate and turbidity
8 sensors connectable in any combination
Functionality modular extendable at any time
Plug and play for modules and sensors

Characteristic

Robust plastic housing
All non-ex applications

Design

8x Memosens input, 2 to 8x current output,
Alarmrelay, 2x relay, SD card for software update and copy & paste of setup

Material

Housing base: PC-FR
Housing seal EPDM

Dimension

237 x 194 x 162 mm
9.33 x 7.64 x 6.38 inch

Process temperature

-20 to 55 °C (0 to 130 °F)

Input

1 to 8x Memosens digital input
2x 0/4 to 20mA Input optional
2 to 4x Digital input optional

Output / communication

2 to 8x 0/4 to 20 mA current outputs, alarmrelay
4x relay, ProfibusDP, Modbus RS485, Modbus TCP, Ethernet

Additional certifications
Application

Modular 4 wire controller
Multichannel: 1 to 8 digital channels for Memosens protocol
Multiparameter: pH, redox, ISFET, conductivity inductive and conductive, dissolved oxygen, nitrate and turbidity
8 sensors connectable in any combination
Functionality modular extendable at any time
Plug and play for modules and sensors

Characteristic

Robust plastic housing
All non-ex applications

Design

8x Memosens input, 2 to 8x current output,
Alarmrelay, 2x relay, SD card for software update and copy & paste of setup

Material

Housing base: PC-FR
Housing seal EPDM

Dimension

237 x 194 x 162 mm
9.33 x 7.64 x 6.38 inch

Input

1 to 8x Memosens digital input
2x 0/4 to 20mA Input optional
2 to 4x Digital input optional

Output / communication

2 to 8x 0/4 to 20 mA current outputs, alarmrelay
4x relay, ProfibusDP, Modbus RS485, Modbus TCP, Ethernet

Additional certifications
Measuring principle

Amperometric oxygen measurement

Application

Modular 4 wire controller
Multichannel: 1 to 8 digital channels for Memosens protocol
Multiparameter: pH, redox, ISFET, conductivity inductive and conductive, dissolved oxygen, nitrate and turbidity
8 sensors connectable in any combination
Functionality modular extendable at any time
Plug and play for modules and sensors

Characteristic

Robust plastic housing
All non-ex applications

Design

8x Memosens input, 2 to 8x current output,
Alarmrelay, 2x relay, SD card for software update and copy & paste of setup

Material

Housing base: PC-FR
Housing seal EPDM

Dimension

237 x 194 x 162 mm
9.33 x 7.64 x 6.38 inch

Process temperature

-20 to 55 °C (0 to 130 °F)

Input

1 to 8x Memosens digital input
2x 0/4 to 20mA Input optional
2 to 4x Digital input optional

Output / communication

2 to 8x 0/4 to 20 mA current outputs, alarmrelay
4x relay, ProfibusDP, Modbus RS485, Modbus TCP, Ethernet

Additional certifications
Application

Modular 4 wire controller
Multichannel: 1 to 8 digital channels for Memosens protocol
Multiparameter: pH, redox, ISFET, conductivity inductive and conductive, dissolved oxygen, nitrate and turbidity
8 sensors connectable in any combination
Functionality modular extendable at any time
Plug and play for modules and sensors

Characteristic

Robust plastic housing
All non-ex applications

Design

8x Memosens input, 2 to 8x current output,
Alarmrelay, 2x relay, SD card for software update and copy & paste of setup

Material

Housing base: PC-FR
Housing seal EPDM

Dimension

237 x 194 x 162 mm
9.33 x 7.64 x 6.38 inch

Process temperature

-20 to 55 °C (0 to 130 °F)

Input

1 to 8x Memosens digital input
2x 0/4 to 20mA Input optional
2 to 4x Digital input optional

Output / communication

2 to 8x 0/4 to 20 mA current outputs, alarmrelay
4x relay, ProfibusDP, Modbus RS485, Modbus TCP, Ethernet

Additional certifications
Measuring principle

Single beam scattered light

Application

Modular 4 wire controller
Multichannel: 1 to 8 digital channels for Memosens protocol
Multiparameter: pH, redox, ISFET, conductivity inductive and conductive, dissolved oxygen, nitrate and turbidity
8 sensors connectable in any combination
Functionality modular extendable at any time
Plug and play for modules and sensors

Characteristic

Robust plastic housing
All non-ex applications

Design

8x Memosens input, 2 to 8x current output,
Alarmrelay, 2x relay, SD card for software update and copy & paste of setup

Material

Housing base: PC-FR
Housing seal EPDM

Dimension

237 x 194 x 162 mm
9.33 x 7.64 x 6.38 inch

Process temperature

-20 to 55 °C (0 to 130 °F)

Input

1 to 8x Memosens digital input
2x 0/4 to 20mA Input optional
2 to 4x Digital input optional

Output / communication

2 to 8x 0/4 to 20 mA current outputs, alarmrelay
4x relay, ProfibusDP, Modbus RS485, Modbus TCP, Ethernet

Additional certifications
Characteristic

Robust plastic housing
All non-ex applications

Process temperature

-20 to 55 °C (0 to 130 °F)

Application

Modular 4 wire controller
Multichannel: 1 to 8 digital channels for Memosens protocol
Multiparameter: pH, redox, ISFET, conductivity inductive and conductive, dissolved oxygen, nitrate and turbidity
8 sensors connectable in any combination
Functionality modular extendable at any time
Plug and play for modules and sensors

Output / communication

2 to 8x 0/4 to 20 mA current outputs, alarmrelay
4x relay, ProfibusDP, Modbus RS485, Modbus TCP, Ethernet

Input

1 to 8x Memosens digital input
2x 0/4 to 20mA Input optional
2 to 4x Digital input optional
Most downloaded
Technical Information (TI)

Liquiline CM442/CM444/CM448

English version - 05/2020

New version available in English

Multiparameter transmitter with a maximum of eight measuring channels based on digital Memosens technology

| | | | |
| --- | --- | --- | --- |
| | EN | | |
| | | | |
| | | | |
| | | | |
| | | | |
| | | | |

| | |
| --- | --- |
| Language: | English |
| Version: | 11/05/2020 |
| File size: | 7.1 MB |
| File name: | TI00444CEN_2319.pdf |

Technical Information (TI)

Liquiline CM442/CM444/CM448

English version - 08/2022

New version available in English

Multiparameter transmitter with a maximum of eight measuring channels based on digital Memosens technology

| | | | |
| --- | --- | --- | --- |
| | EN | | |
| | | | |
| | | | |
| | | | |
| | | | |
| | | | |

| | |
| --- | --- |
| Language: | English |
| Version: | 10/08/2022 |
| File size: | 5.9 MB |
| File name: | TI00444CEN_2622-00.pdf |
137 documents
Technical Information (TI)

Liquiline CM442/CM444/CM448

Technical Information (TI)

English version - 08/2022

New version available in English

Multiparameter transmitter with a maximum of eight measuring channels based on digital Memosens technology

| | | | |
| --- | --- | --- | --- |
| | EN | | |
| | | | |
| | | | |
| | | | |
| | | | |
| | | | |

| | |
| --- | --- |
| Language: | English |
| Version: | 10/08/2022 |
| File size: | 5.9 MB |
| File name: | TI00444CEN_2622-00.pdf |

Operating Instruction (BA)

Memosens

Operating Instruction (BA)

English version - 05/2022

New version available in English

Sensor inputs with Memosens protocol

| | |
| --- | --- |
| Language: | English |
| Version: | 30/05/2022 |
| File size: | 3.3 MB |
| File name: | BA01245CEN_0822-00.pdf |

Operating Instruction (BA)

Operating Instructions

Operating Instruction (BA)

English version - 06/2013

New version available in English

Communication via the HART protocol

| | |
| --- | --- |
| Language: | English |
| Version: | 27/06/2013 |
| File size: | 1.9 MB |
| File name: | BA00486CEN_0213.pdf |

Operating Instruction (BA)

BA Liquiline CM442/CM444/CM448

Operating Instruction (BA)

English version - 09/2023

New version available in English

Universal four-wire multichannel controller Field device

| | | | |
| --- | --- | --- | --- |
| | EN | | |
| | | | |
| | | | |
| | | | |
| | | | |
| | | | |

| | |
| --- | --- |
| Language: | English |
| Version: | 25/09/2023 |
| File size: | 7.8 MB |
| File name: | BA00444CEN_3123-00.pdf |

KA Liquiline CM442/CM444/CM448

English version - 09/2023

New version available in English

Universal four-wire multichannel controller

| | | | |
| --- | --- | --- | --- |
| | EN | | |
| | | | |
| | | | |
| | | | |
| | | | |
| | | | |

| | |
| --- | --- |
| Language: | English |
| Version: | 25/09/2023 |
| File size: | 3.4 MB |
| File name: | KA01159CEN_1023-00.pdf |

Installation Instructions (EA)

SD card kit

Installation Instructions (EA)

English version - 03/2021

New version available in English

32 GB, industrial flash drive

| | |
| --- | --- |
| Language: | English |
| Version: | 23/03/2021 |
| File size: | 506.7 KB |
| File name: | EA01354CEN_0121.pdf |

Installation Instructions (EA)

Kit Mastbefestigung Post mounting kit 71096920 Installation Instructions

Installation Instructions (EA)

English version - 02/2017

New version available in English

Kit Mastbefestigung

| | | | |
| --- | --- | --- | --- |
| | EN | | |
| | | | |
| | | | |
| | | | |

| | |
| --- | --- |
| Language: | English |
| Version: | 28/02/2017 |
| File size: | 659.1 KB |
| File name: | EA00010CA2_0317.pdf |

Installation Instructions (EA)

Kit CM44x / CSXxx / CA80xx Kit Module 485/ETH Installation Instructions

Installation Instructions (EA)

English version - 08/2017

New version available in English

For Ethernet configuration, PROFIBUS, Modbus

| | | | |
| --- | --- | --- | --- |
| | EN | | |
| | | | |
| | | | |
| | | | |
| | | | |

| | |
| --- | --- |
| Language: | English |
| Version: | 22/08/2017 |
| File size: | 2.1 MB |
| File name: | EA00009CA2_0417.pdf |

Installation Instructions (EA)

Einbauanleitung/ Installation Instructions Kit Module/Modules

Installation Instructions (EA)

English version - 07/2014

New version available in English

Für erweiterte Funktionalität For extended functionality

| | | | |
| --- | --- | --- | --- |
| | EN | | |
| | | | |
| | | | |
| | | | |

| | |
| --- | --- |
| Language: | English |
| Version: | 07/07/2014 |
| File size: | 2.4 MB |
| File name: | EA00008CA2_0314.pdf |

Installation Instructions (EA)

Kit CM44x/CSXxx/CA80XX

Installation Instructions (EA)

English version - 11/2022

New version available in English

Module 485MB or 485DP For Ethernet configuration,PROFIBUS DP, Modbus RS485

| | |
| --- | --- |
| Language: | English |
| Version: | 28/11/2022 |
| File size: | 1.8 MB |
| File name: | EA01447CEN_0122-00.pdf |

Installation Instructions (EA)

SD card kit

Installation Instructions (EA)

English version - 03/2021

New version available in English

Industrial flash drive, 1 GB With firmware, no. 71127100 Without firmware, no. 71110815

| | | | |
| --- | --- | --- | --- |
| | EN | | |
| | | | |
| | | | |
| | | | |
| | | | |
| | | | |

| | |
| --- | --- |
| Language: | English |
| Version: | 23/03/2021 |
| File size: | 506.9 KB |
| File name: | EA00011CEN_0621.pdf |

Installation Instructions (EA)

Kit 2DS Ex-i module for CM44x(R) / CM44P

Installation Instructions (EA)

English version - 07/2022

New version available in English

Replacement / repair of the 2DS Ex-i module for CM44x(R) / CM44P

| | |
| --- | --- |
| Language: | English |
| Version: | 04/07/2022 |
| File size: | 3.5 MB |
| File name: | EA01413CEN_0122-00.pdf |

Ex Safety Instruction (XA)

Liquiline CM442, CM444, CM448, CM442R, CM444R, CM448R, CM44P

Ex Safety Instruction (XA)

English version - 01/2022

New version available in English

Supplement to: BA00444C, BA01225C, BA01570C, BA01954C Safety instructions for electrical apparatus in explosion-hazardous areas for ATEX, IECEx

| | |
| --- | --- |
| Language: | English |
| Version: | 27/01/2022 |
| File size: | 1.5 MB |
| File name: | XA02419CEN_0221-00.pdf |

Ex Safety Instruction (XA)

XA Liquiline CM442, CM444, CM448, CM442R, CM444R, CM448R, CM44P

Ex Safety Instruction (XA)

English version - 05/2023

New version available in English

Universal four-wire multichannel controller CSA CL I, DIV 2, GP A-D T4A

| | |
| --- | --- |
| Language: | English |
| Version: | 05/05/2023 |
| File size: | 8.9 MB |
| File name: | XA02420CEN_0123-00.pdf |

Ex Safety Instruction (XA)

Liquiline CM442, CM444, CM448, CM442R, CM444R, CM448R, CM44P

Ex Safety Instruction (XA)

English version - 03/2022

New version available in English

UK Ex II (1)G [Ex ia Ga] IIC Safety instructions for electrical apparatus in explosion-hazardous areas

| | |
| --- | --- |
| Language: | English |
| Version: | 22/03/2022 |
| File size: | 1.5 MB |
| File name: | XA02762CEN_0121-00.pdf |

Special Documentation (SD)

Liquiline CM44x, Liquiline CM44xR, Liquiline CM44P, Liquiline System CA80xx, Liquistation CSFxx

Special Documentation (SD)

English version - 06/2022

New version available in English

Data transmission via PROFINET

| | |
| --- | --- |
| Language: | English |
| Version: | 09/06/2022 |
| File size: | 2.6 MB |
| File name: | SD02490CEN_02.22.pdf |

Special Documentation (SD)

CM44x/R/P / CSFxx / CA80xx

Special Documentation (SD)

English version - 06/2022

New version available in English

PROFIBUS Guideline

| | | | |
| --- | --- | --- | --- |
| | EN | | |
| | | | |
| | | | |
| | | | |
| | | | |
| | | | |

| | |
| --- | --- |
| Language: | English |
| Version: | 09/06/2022 |
| File size: | 1.9 MB |
| File name: | SD01188CEN_06.22.pdf |

Special Documentation (SD)

CM44x/R/P

Special Documentation (SD)

English version - 11/2019

New version available in English

HART Field Device Specification

| | | | |
| --- | --- | --- | --- |
| | EN | | |
| | | | |
| | | | |
| | | | |

| | |
| --- | --- |
| Language: | English |
| Version: | 30/11/2019 |
| File size: | 7.8 MB |
| File name: | SD01187CEN_0319.pdf |
Loading more results