Supply chain management
Online software
SupplyCare Hosting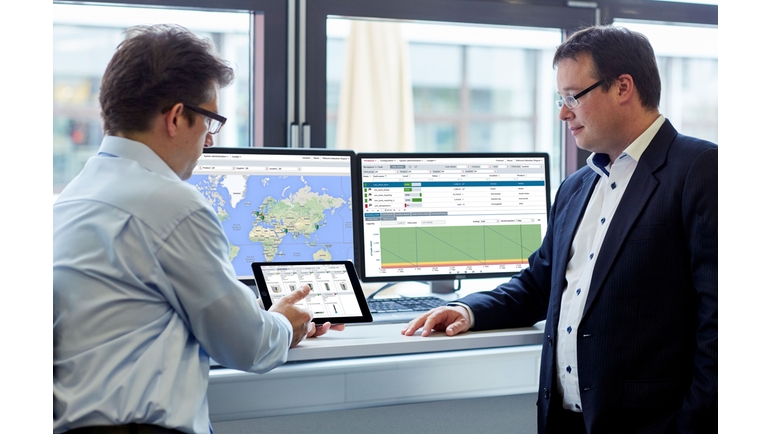 Cloud-based inventory management platform for transparent information within the supply chain
The SupplyCare cloud-based inventory management platform supports users in collaborative demand planning, event-driven replenishment planning and scheduling as well as the reconciliation (in/out) and consolidation (totaling) of geographically distributed inventories. You can involve partners from all entities and even from different companies to make your supply chain smarter. SupplyCare Hosting runs on a redundant server infrastructure at Endress+Hauser and is available via web browser.
Quick selection
Choose from our suggested options
Individual configuration
Continue your selection from all possible options
Benefits

Improves demand planning and lowers your inventories

Enables business processes such as Vendor and Supplier Managed Inventory (VMI, SMI)

Complete solution from inventory measurement and data acquisition to integration in your business processes

Worldwide...
Field of application

Monitor product stock in your tanks and silos at your desk or on the go using web browser technology

Assign warning and alarm limits as well as theft detection to all monitored inventory

Send or receive e-mail notification, e.g. that replenishment is...
Documents / Manuals / Software
SupplyCare Hosting SCH30

Cloud-based inventory management platform for
transparent information within the supply chain

Technical Information (TI)

SupplyCare Hosting SCH30

Operating Instructions
Operating program for the coordination of material and information flow
along the supply chain

Operating Instruction (BA)

SupplyCare Hosting Manufacturer Information

Manufacturer information for users regarding software updates
(following the NAMUR recommendation 53)

New software version : 2.08.xx

Manufacturer Information (MI)
Accessories / Spare parts
No spare parts available.
16.03.2020 - 20.03.2020

With the help of actual hands-on tasks you will learn how PROFIBUS networks are installed in detail. The emphasis is on the correct installation and usage of tools.

22.06.2020 - 26.06.2020

With the help of actual hands-on tasks you will learn how PROFIBUS fieldbus technology works in detail. At the end of the course you will be able to design and commission a PROFIBUS fieldbus network.

22.07.2020 - 23.07.2020

You will learn how to implement WirelessHART successfully and where WirelessHART can add value to an existing plant. You will actually build a WirelessHART network with components from Endress+Hauser.

07.09.2020 - 09.09.2020

You will learn with the help of actual hands-on tasks, how FOUNDATION Fieldbus technology works in detail. Features like control in the field are shown as well as device configuration via DTM.