Dosimag
Electromagnetic flowmeter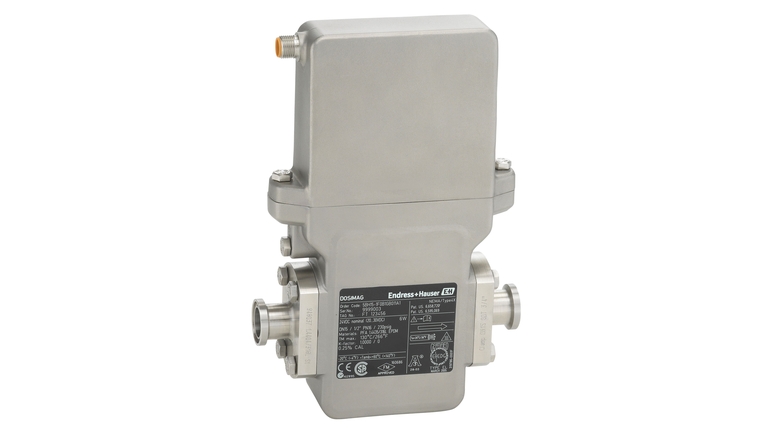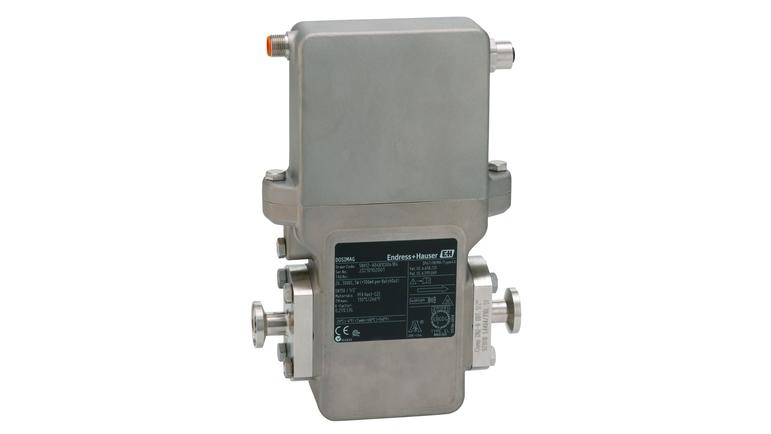 Flowmeter with hygienic design, highest repeatability and an ultra-compact sensor
Dosimag is specially designed for filling and bottling applications of conductive liquids. It measures volume directly. Designed for applications where space is a premium, Dosimag will be the preferred choice for system integrators, skid builders and equipment manufacturers.
Quick selection
Choose from our suggested options
Individual configuration
Continue your selection from all possible options
Benefits

High process safety – high measuring accuracy and repeatability in shortest filling time

Energy-saving flow measurement – no pressure loss due to cross-section constriction

Maintenance-free – no moving parts

Versatile and time-saving wiring – plug connector

Industry-optimized – ultra-compact design

For...
Field of application

The bidirectional measuring principle is virtually independent of pressure, density, temperature and viscosity

For demanding dosing and filling applications.

Device properties

Wetted materials CIP, SIP cleanable

Nominal diameter: DN 4 to 25 (1/8 to 1")

Measuring device conform to FDA

Pulse/...
Documents / Manuals / Software
Accessories / Spare parts
FXA service adapter Batchline packed

Adapter FXA291 Dosimag/Dosimass packed

Commubox FXA291 (Hardware)

Serial USB Computer Interface Technical Data: - USB Version1.1 or higher - Power supply via USB - IP51; NEMA/Typ 3 - Ambient temperature: -20....+60oC - Ex: II(2) G (EEx ia) II C - ATEX: BVS 05 ATEX E 095 Scope of deliovery: Commubox FXA 291 MS Windows USB driver Device is submitted for CSA/FM application. The device may not be modified and may be used with intrinsically safe circuits with corresponding characteristics only (see safety certificate).

Dosimag OEM-Version

Electromagnetic flowmeter for filling applications (compact version) PFA measuring tube lining Housing in stainless steel

Promag H, mounting set

A mounting set includes 2 process connections incl. screws and the corresponding seals.

Promag H/Dosimag, seal set

Promag H, adapter set

Replacement of sensor Promag A or Promag H DN 25. The set includes 2 adapters and 2 seals. For dimensions refer to the technical documentation.

Serviceinterface FXA193

The service interface connects the service port of Proline and ToF devices with the serial interface RS 232C (9 pin.) of a personal computer. Contents of delivery: - Serviceinterface with RS 232C connection cable (9 pin.) - FXA "USB" cable, the additional power supply for FXA193 from USB-port of the PC.
16.03.2020 - 20.03.2020

With the help of actual hands-on tasks you will learn how PROFIBUS networks are installed in detail. The emphasis is on the correct installation and usage of tools.

22.06.2020 - 26.06.2020

With the help of actual hands-on tasks you will learn how PROFIBUS fieldbus technology works in detail. At the end of the course you will be able to design and commission a PROFIBUS fieldbus network.

22.07.2020 - 23.07.2020

You will learn how to implement WirelessHART successfully and where WirelessHART can add value to an existing plant. You will actually build a WirelessHART network with components from Endress+Hauser.

07.09.2020 - 09.09.2020

You will learn with the help of actual hands-on tasks, how FOUNDATION Fieldbus technology works in detail. Features like control in the field are shown as well as device configuration via DTM.