iTEMP TMT187
Temperature head transmitter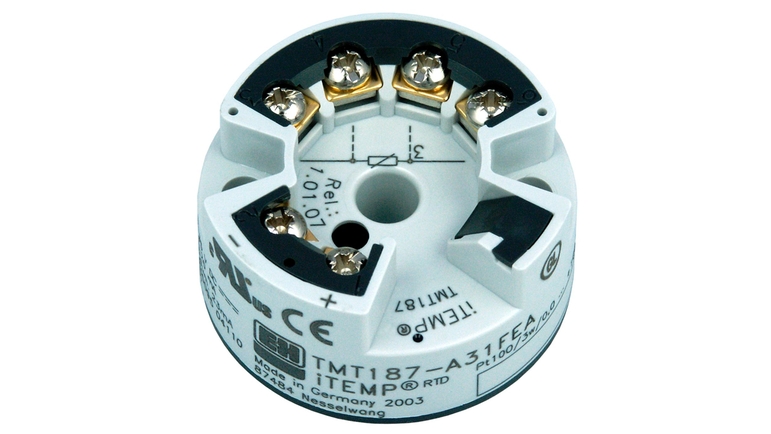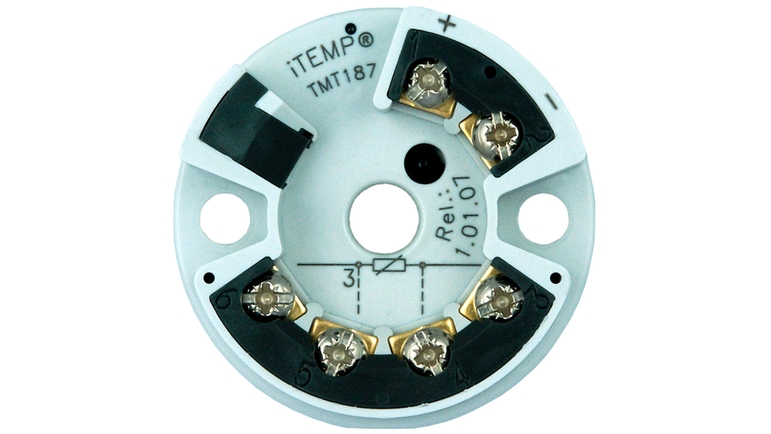 Transformation of the sensor signal into a stable and standardized output signal for all industries
The transmitter is designed for the transformation of an RTD Pt100 sensor signal in a fixed measuring range. The standardized output signal used for process measurement is a 4 to 20 mA signal. This means fast, easy and cost-saving temperature measuring as well as reliable and precise measured values for for a wide range of industry applications.
Benefits

High accuracy in complete ambient temperature range


Failure information when sensor breaks or short-circuits as per NAMUR NE 43

EMC as per NAMUR NE 21, CE

Ex approval: ATEX Ex ia and dust zone 22 in compliance with EN 50281-1; FM IS; CSA IS

UL recognized...
Field of application

Fixed range temperature head transmitter for converting a Pt100 input signal into an 4 to 20 mA analog output signal


Input: Resistance thermometer (RTD) Pt100
Documents / Manuals / Software
Accessories / Spare parts
The unit is not repairable

Spare part set for TMT181/187/188/182

(4 screws, 6 springs, 10 spring rings)

DIN rail clip

according to IEC 60715 for temperature head transmitters.

Field housing TAF10

Application: E+H Head transmitter. Housing: Alu IP66, 100x100x60mm.
16.03.2020 - 20.03.2020

With the help of actual hands-on tasks you will learn how PROFIBUS networks are installed in detail. The emphasis is on the correct installation and usage of tools.

22.06.2020 - 26.06.2020

With the help of actual hands-on tasks you will learn how PROFIBUS fieldbus technology works in detail. At the end of the course you will be able to design and commission a PROFIBUS fieldbus network.

22.07.2020 - 23.07.2020

You will learn how to implement WirelessHART successfully and where WirelessHART can add value to an existing plant. You will actually build a WirelessHART network with components from Endress+Hauser.

07.09.2020 - 09.09.2020

You will learn with the help of actual hands-on tasks, how FOUNDATION Fieldbus technology works in detail. Features like control in the field are shown as well as device configuration via DTM.