TH12
US style RTD sensor, cable probe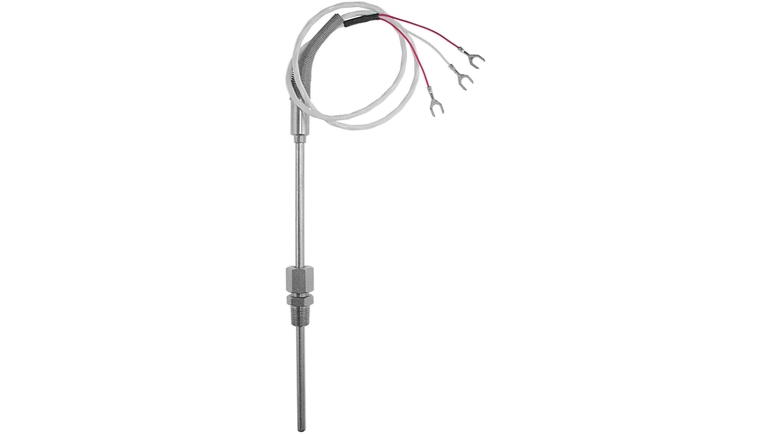 Cost efficient RTD sensor designed for use in the process industry or factory automation
The Pt100 cable probe is easy to install and provide a high operational safety due to reliable and accurate temperature measurement in common processes. Without additional thermowell the probe sheath is directly in contact with the process medium. This enables the cable probe to detect rapid temperature changes fast and accurate.
Benefits

High flexibility due to customized immersion length

Fast response time with reduced/tapered tip form

Simplified model structure: Competitively priced, offers great value. Easy to order and reorder

Improved galvanic isolation on most devices (2 kV)
Field of application

The TH12 temperature sensors are RTD's designed for use in the process industry or factory automation type of environment. They are made up of a measurement probe with a RTD, insulation and sheath.

Among other applications the sensors can be used on:
Documents / Manuals / Software
Accessories / Spare parts
The unit is not repairable

Compression fitting, threaded TU301
16.03.2020 - 20.03.2020

With the help of actual hands-on tasks you will learn how PROFIBUS networks are installed in detail. The emphasis is on the correct installation and usage of tools.

22.06.2020 - 26.06.2020

With the help of actual hands-on tasks you will learn how PROFIBUS fieldbus technology works in detail. At the end of the course you will be able to design and commission a PROFIBUS fieldbus network.

22.07.2020 - 23.07.2020

You will learn how to implement WirelessHART successfully and where WirelessHART can add value to an existing plant. You will actually build a WirelessHART network with components from Endress+Hauser.

07.09.2020 - 09.09.2020

You will learn with the help of actual hands-on tasks, how FOUNDATION Fieldbus technology works in detail. Features like control in the field are shown as well as device configuration via DTM.