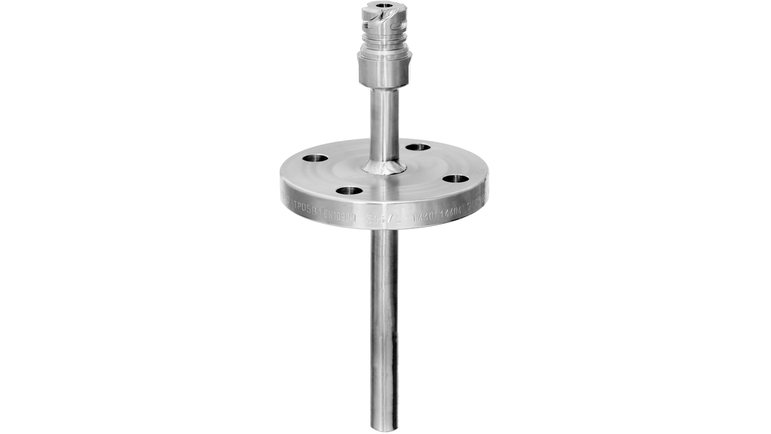 Welded thermowell for a variety of industrial applications
This thermowell designed according to DIN 43772 guarantees a high resistance to most industrial process environments. It is made from pipe or tube and is available in a wide range of diameters and materials. A specially designed thermowell tip ensures fast response times for a more efficient process control. Oversheaths in PTFE or tantalum can withstand extremely corrosive process conditions. It is offered with a variety of process connections: flanges, threads, weld-in or compression fittings.
Benefits

Modular configuration according to DIN 43772

iTHERM QuickNeck: cost and time savings thanks to simple, tool-free recalibration of the insert

Extension, immersion length and total length can be chosen according to process requirements

Wide choice of...
Field of application

Protects the temperature sensor against physical and chemical stress

High robustness for challenging process conditions

Pressure range: up to 100 bar (1450 psi)

For use in pipes, containers or tanks

Improved ease of maintenance (sensor replacement without...
Documents / Manuals / Software
16.03.2020 - 20.03.2020

With the help of actual hands-on tasks you will learn how PROFIBUS networks are installed in detail. The emphasis is on the correct installation and usage of tools.

22.06.2020 - 26.06.2020

With the help of actual hands-on tasks you will learn how PROFIBUS fieldbus technology works in detail. At the end of the course you will be able to design and commission a PROFIBUS fieldbus network.

22.07.2020 - 23.07.2020

You will learn how to implement WirelessHART successfully and where WirelessHART can add value to an existing plant. You will actually build a WirelessHART network with components from Endress+Hauser.

07.09.2020 - 09.09.2020

You will learn with the help of actual hands-on tasks, how FOUNDATION Fieldbus technology works in detail. Features like control in the field are shown as well as device configuration via DTM.